New Jersey is a small US state but this place has no dearth for tourist attraction. Historical sites and natural beauty attract a good deal of tourists to this place. The place has a long coast line and it's almost 130 miles. Apart from this Atlantic coast, the statue of liberty is the land mark of this place. The state, with its glamorous nights and Hudson river, remains full of life all the time. Descriptions of some best places of New Jersey state are given below.
1. Atlantic City
The Atlantic city is famous for its casinos and games. All over the year, amusements of different types can be found here. The Boardwalk which is four miles long, is a famous place to the tourists. Here different types of shows and games take place. Parking is free. So, people enjoy their time from the bottom of their heart. There is an amusement park here. It's called Steel Pier. Many types of rides are available here. Kids just go crazy in this place. For the adults the city offers many shopping options. The Boardwalk has bike rentals, rickshaw rolling, and electric tram for more good time.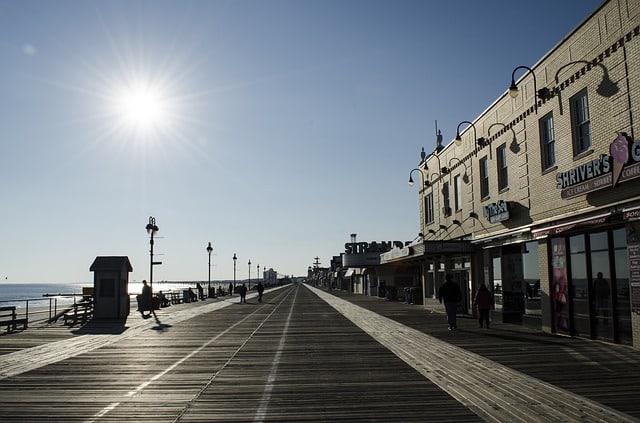 Every year 'Miss America' final is hosted here at the Boardwalk hall. The place dazzles with lights and there is hardly any moment that you want to miss. Apart from all of these, the place is also famous for Aquarium, shopping, dinning, fishing and dolphin sightings. The tallest light house of New Jersey, Absecon, is situated here. It's an epic moment to capture and to share.
2. Princeton
If you have any desire to visit the famous scientist Albert Einstein's house, then you must visit Princeton.
Princeton town is not just famous for that house but there are many super rich people's houses. These house are worth looking. The famous Princeton university and many old monuments are there to look at. The rivers, Clarke house museum, Princeton battlefield state park, The golf fields, orchards make the place a charming destination for the tourists.
3. Cape May
Cape may is a historical place, It's the country's oldest harbor. There are some Victorian buildings which are
really good looking. The wonderful beach with beautiful weather will attract you profoundly. Tourists come here for the sunny beach and for many activities. There is a zoo and a world war 2 bunker over here, if you wish you can visit that too.
4. Liberty State Park
Liberty state park will provide you with some mesmerizing beauty of New Jersey. The place has some good
opportunities for water sports and the Ellis Island is really a beautiful place. The Statue of Liberty is here and you can also notice some 2001's tragic incident's memory.
5. Hoboken
This place will be liked by the people who love foods. Italian, Mexican, Indian and more great dishes are waiting for you. The Manhattan view and the Pier-c park are a good attraction for tourists. The historical museum and the eateries add more charm to the place.
6. Delaware water Gap
Delaware water gap is 40 mile stretched river area. The place is quiet and calm. For total recreation and perfect relaxation, the place is matchless. You can do horse riding, hiking, fishing and many more activities in this area. The place is between the border of Pennsylvania and New Jersey. There is a great archaeological site which is an attraction to many tourists.
7. Ocean City
The ocean city attracts tourists for its long beaches. Almost a 8 mile long beach is over there. The city has many types of sports activities. Besides this, the restaurants, amusement parks and shopping stalls draw lots of people over here.
8. Paterson Great Falls
Paterson great falls offers an extra-ordinary view. To the photographers, this is heaven. The falls is on the Passaic river and it draws a great deal of tourists. To explore more, you can visit the river area with guides.
9. Newark
The Newark city is famous for its natural scenery. There are hundreds of Cherry Blossom trees over there.
Apart from it, a spectacular collection of architecture can also be viewed. The fine art collection is really worth watching . A boat ride along its coast line will be a memorable sight.
10. Thomas Edison National Historical Park
Many ground breaking inventions were achieved by Thomas Edison.
This park preserves all of it. Thomas Edison's home and laboratory can be visited here.
You can see many original models of inventions. There are 29 rooms in this mansion and it will be really an informational tour for you.
There are more charming places in New jersey, but the above mentioned places are the best places.
If you are planning for a tour, New Jersey will be the perfect place with all its captivating and versatile attractions.