7 Best Scotland Cliffs and How to Experience Them
The Scotland cliffs of are a majestic sight and one that should be experienced by all. With their rolling hills, rugged coastline, and tranquil ocean views, they offer something for everyone.
If you're looking for an exhilarating way to experience Scotland's stunning cliffs, there's no better way than by rock climbing. With its numerous routes and challenging climbs, Scotland is a mecca for rock climbers from all over the world.
Scotland cliffs – a paradise for hikers
The Scottish Highlands are a wild and beautiful place, with stunning cliffs that stretch for miles. These cliffs are a paradise for hikers and climbers and offer amazing views of the surrounding countryside. If you're looking for an adventure, be sure to check out some of Scotland cliffs!
1. St Johns Head
St Johns Head on the Isle of Hoy in Orkney is undoubtedly a stunning rock face in Scotland. Even the most skilled climbers will be amazed by the sheer enormity of this terrifying cliff, which is the ultimate test. It is believed to be among the most intricate sea climbing cliffs. 1970 marked the first direct ascent and 2011 saw the first free ascent.
The imposing cliff is as high as it is stunning with a straight drop of 352 meters (1,154 feet) and is one of the top UK high sea cliffs that are vertical. Bright hues of red and yellow are painted from sandstone bedrocks that have weathered visible and dancing as the sun shines on the rock.
2. Quiraing
The rocky ridges that lie beneath Quiraing are considered the Scotland cliffs' emperors, similar to how haggis is the most famous of Scottish dishes. Haggis is the mainstay of the race for pudding. The picturesque landscape of the Trotternish region of Skye is located close to the villages that surround it, Staffin the area and Uig.
A trek through the treacherous 6.8km circuit of Quiraing is like taking a step into the levels of your imagination. The Trotternish ridge is an incredible collection of jagged cliffs hidden plateaus, and towering rock pinnacles, which were formed by a massive landslip. It is a mystical landscape that is suffused with breathtaking beauty and should be the top priority on every adventurous person's bucket list.
3. Dunnet Head
The glistening beaches and enchanting dunes These are the Dunnet Head cliffs — the northernmost point in mainland Britain. These Scotland Cliffs are awe-inspiring and look at the sea without pretense, revealing The Pentland Firth. Seabirds too must shiver at the idea that the 300 feet drop is a frightful sight. The breathtaking view of Orkney islands and the northern coastline of Scotland are among the most stunning sights to be witnessed.
The stunning Sandstone cliffs, while noticing the vast and vertical faces provide a form of relaxation that is unique only to Mother Nature and her alone. The hours can go by quickly when you're navigating the narrow, winding trails and taking on the incredibly difficult ascents.
4. Kilt Rock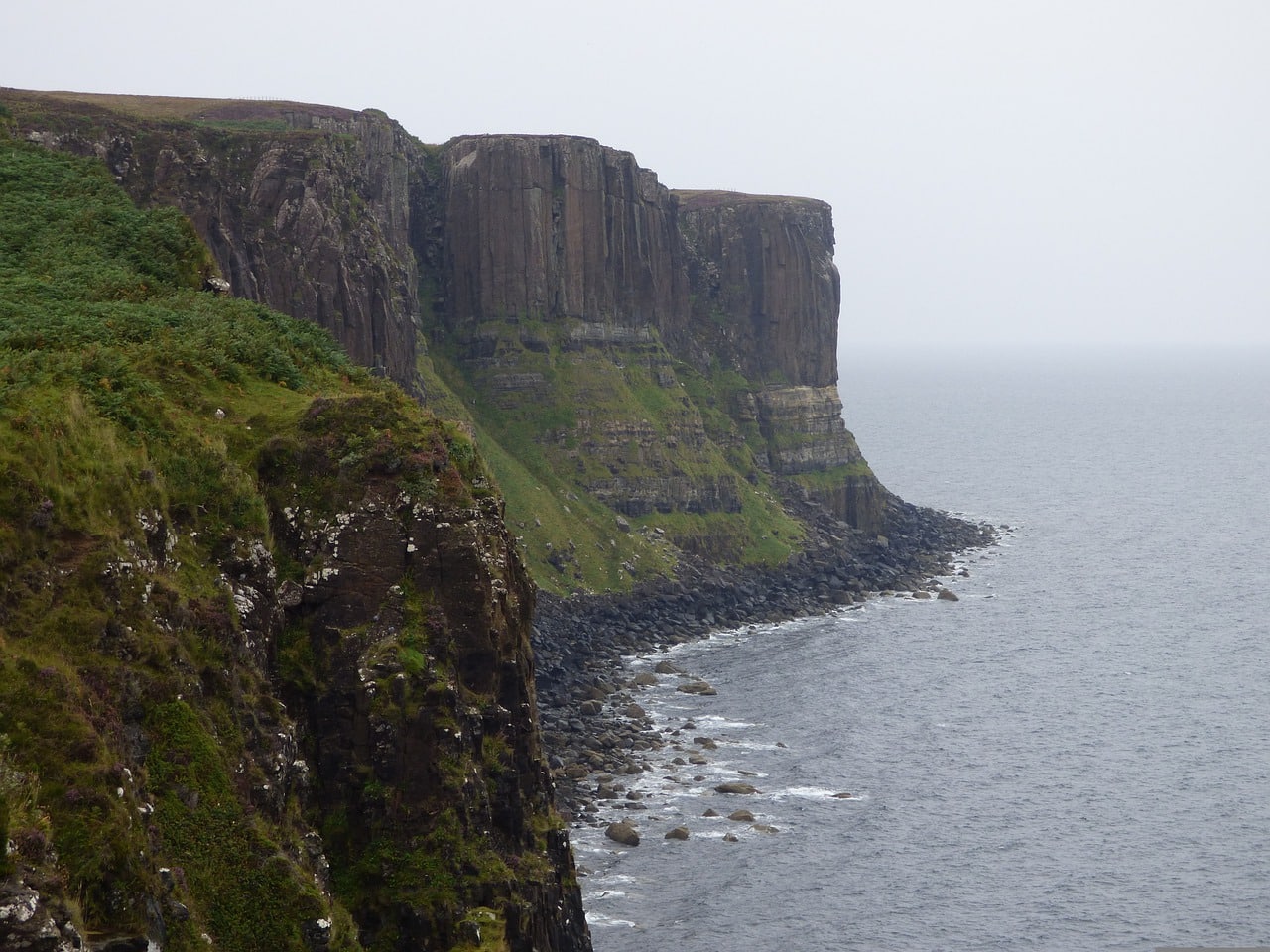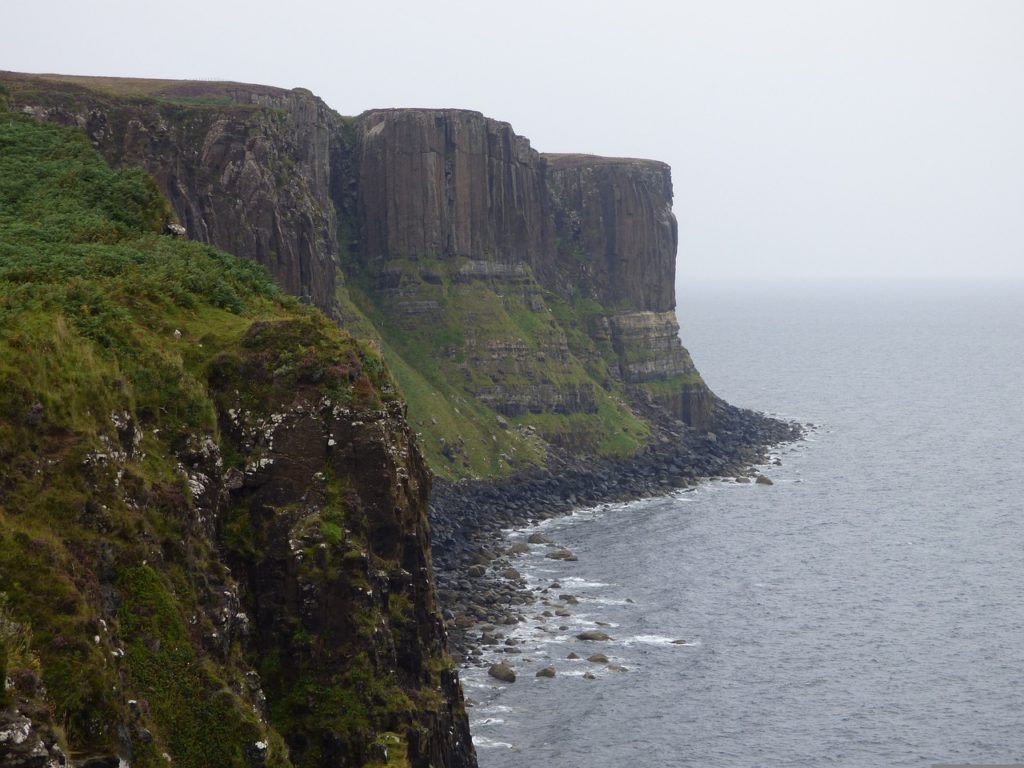 A glance at Kilt Rock could leave the most talented writer completely speechless. Every surface of Skye is a wonder, however, Kilt Rock is the one that is the most striking. The sea cliff that is located in the northeast of Trotternish is believed to look like a Kilt.
The basalt columns that are vertical transform into exquisite tartan pleats with the camouflaged sills dolerite that is woven through mimics the kaleidoscope patterns that make up this famous Scottish dress. The waters that flow from Mealt Waterfall gush like a waterfall that is dripping down from the stunning cliff. Kilt Rock, without a doubt, should be looked at by every second of the day.
5. Clo Mor Cliffs
It is believed that the Clo Mor Cliffs are sacred to human beings in the same way that they provide an ideal habitat for groups of seabirds. Around five miles distant from Cape Wrath, these impressive chunks of rock are believed to be among the highest cliffs found in Great Britain.
From stunning views of Scotland's turbulent waters as well as puffins, kittiwakes, and fulmars hopping around when you stand on these magnificent natural masterpieces brings life's smallest details into the proper perspective. The Cliffs have a dramatic drop of almost 300 meters (approximately 910 feet). On the beach is the enchanting Smoo cave, an impressive sea cave surrounded by a breathtaking waterfall.
6. Bullers of Buchan
To the south of Peterhead, the cave that has collapsed into the sea in Bullers of Buchan is (relatively) accessible, making it an ideal option for those who do not have time to explore remote spots in your pursuit of cliffs with a rocky cliff.
The cave's collapse has left many close-knit cliffs to follow and an archway that is natural. The cliffs are fairly thin at about 30 meters. However, the formations are striking and diverse, and puffins are often seen on the cliffs' rock peaks. It's a distinctive and fascinating terrain, and it's also one of the top attractions in this region.
Explores Buchan's Bullers of Buchan and takes several other places of interest such as the coastal villages that are Boddam as well as Cruden Bay. If you take a walk in between Bullers of Buchan along with the second, you'll come across the magnificent ruin of Slains Castle, one of Bram Stoker's ideas for Dracula.
7. St. Abb's Head
Domed, pastel Retro, and domed lighthouses here are situated located just north of the small community in St Abb's, which lends its name to the lighthouse and its surrounding area. The cliffs measure to be around 90m. St. Abb's Head is the southernmost entry on this list.
It's quite close to the border of Scotland as well as England. St Abb's is by no means a bustling area, but it's also near Eyemouth which is a hugely sought-after tourist destination on the seaside for residents from the northern part of England in addition to southern Scotland. It's also within reach of a number of cities and towns that are populated.
The town is situated within Edinburgh or Berwick, St. Abb's Head is a wonderful getaway for anyone visiting both places. There are fantastic walks, amazing Scotland Cliffs, fantastic birds, and an enthralling sense of peace.